Configuration - Conference
In this plugin you can change the settings for Conference.
Tab: General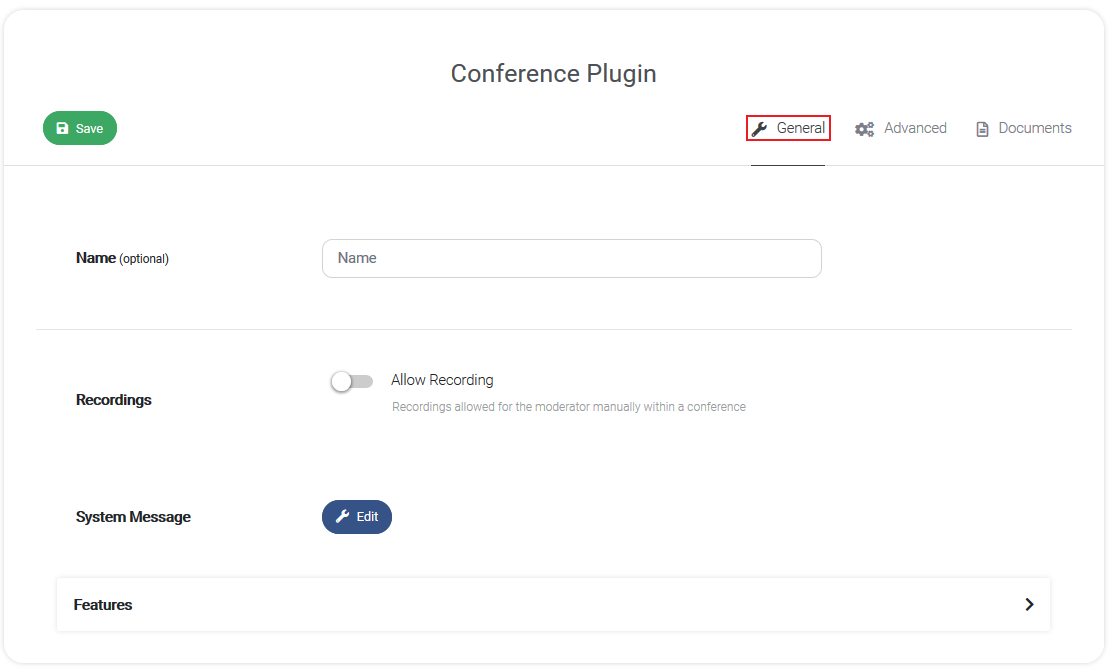 Name Here you can define an (optional) Name for your Conference Plugin.
Recordings You can enable the moderator to record the current conference call.
System Message By clicking on Edit you can change the System Messages, which will occur at certain points throughout TeamViewer Engage.
Features

In-conference Chat Integrates a chat functionality to the Chat.

Documents Integrates Documents into Conference. Documents is a management system for documents which gives you the option to work together with your customers on one document via Co-Browsing.

Whiteboard Integrates a Whiteboard into the Conference Plugin for better communication via visualisation.

Co-Browsing Integrates Co-Browsing functionality into Conference.

Unlimited Co-Browsing Integrates Universal Co-Browsing into Conference. Universal Co-Browsing is Co-Browsing for all websites.

Queue Allow customers to join a queue and agents can assign waiting customers to themselves.
Tab: Advanced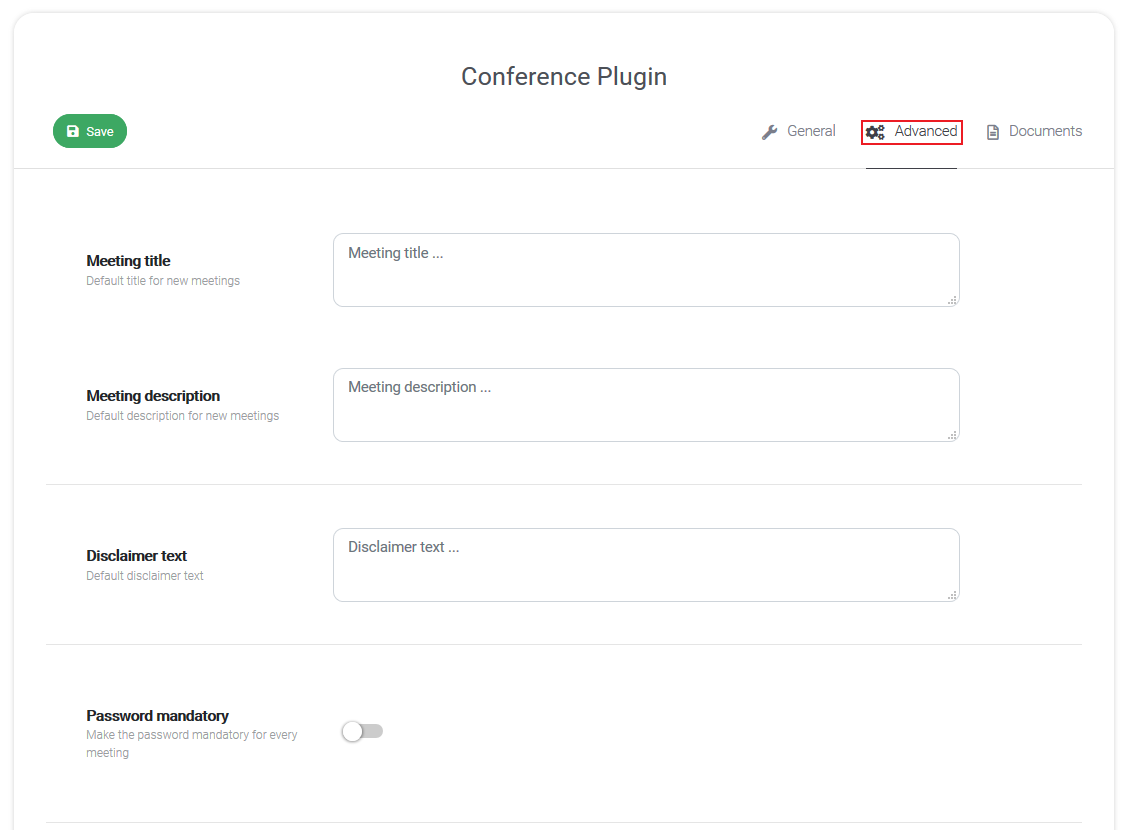 Meeting title You can give new meetings a default title.
Meeting description You can give new meetings a default description.
Disclaimer text You can give new meetings a default disclaimer text.
Password mandatory You can enable this option to make passwords mandatory for every meeting
Colors Here you can set the colors for your meetings.
Primary: The praimary color defines the color of the font in the top bar.
Secondary: The secondary color defines the color of the invite page as well as the top bar of a Conference meeting.
Features

Invite Agent Gives the Conference creator the option to invite additional agents.

Allow picture in picture mode Allows conference users to put the video at the desktop, that the agent sees the video of the customer although the browser window is in the back.

Take screenshot of main video It is possible to take a screenshot of the main video in Conference
Agent controls

Agent guides through the conference Only the agent is allowed to switch tabs and joined Converence members follow the agent. The agent can grant users the right to switch tabs.

Agent can switch the camera of the user If the user has activated his camera, the agent can change between front and back camera.
Technical

Websockets This option enables/disables websockets.
Tab: Documents

Save Copy Gives joined users the option to save a copy of the document (the document does not get downloaded, it is saved to the shared space of the meeting).
Download Gives joined users the option to download and save a local copy of the document.