Update coming soon (Q1/2020): Dashboard will get complete rework and become customizable.
Chatvisor provides you with various statistics which are rehashed in different dashboards. You find the Dashboard in the main menu on the left.
Realtime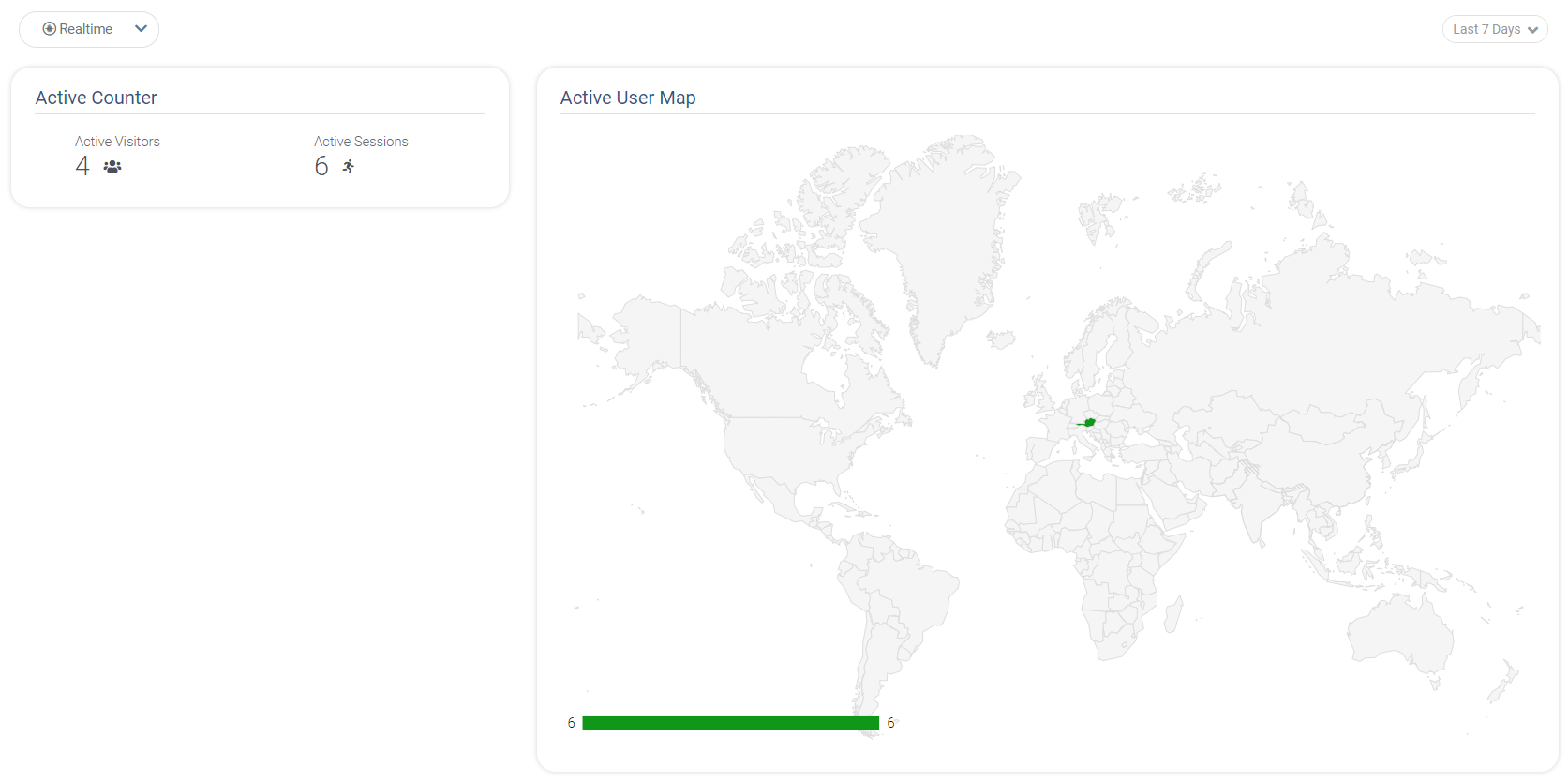 In Realtime you see all sessions that are currently active on your website. The map shows where the visitors are coming from. Further below you see the actual list of sessions, which you can join by clicking on them.
To enable this dashboard, make sure that you created the LiveView plugin and integrated it to your website.
Chat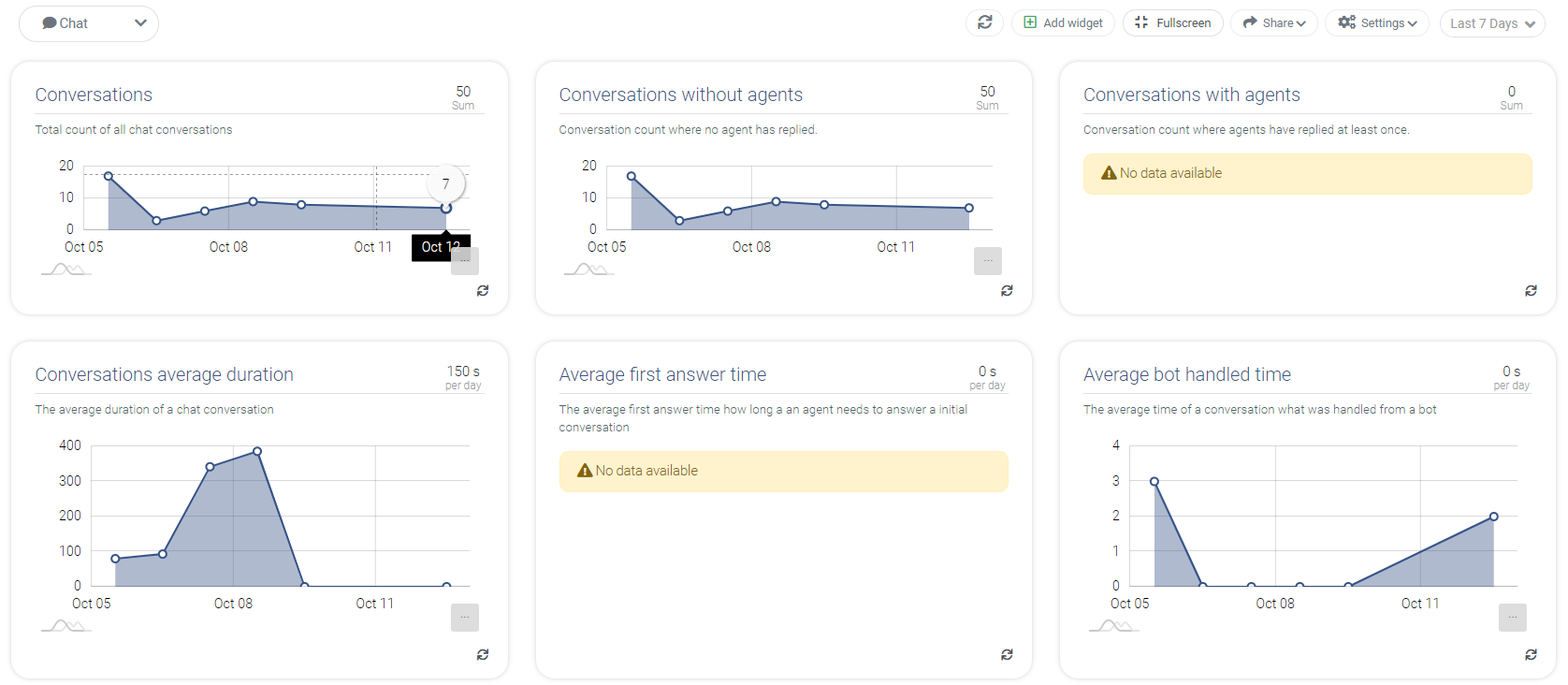 All incoming conversations and messages from WebChat or Facebook Messenger are evaluated. In Chat you can find helpful metrics regarding that.
Overview

Shows you at a glance the
number of conversations,
average response time,
number of messages (incoming + outgoing)
for the set time period. You can alter the time period on the top right (by default Last 7 days)
Conversations
Number of Conversations

Generally, a Conversation is opened every time a customer messages you through WebChat or Facebook Messenger. Conversations are re-opened/counted again,
in WebChat, when the user closes the browser (window.sessionStorage is cleared) and visits the page again;
in Facebook Messenger, when the user sends a message after a 15 minute pause.
Conversation Duration

When a Conversation is opened, it is marked as UNRESOLVED. The Conversation Duration is the time the Conversation is marked as such. This happens to be until an agent changes the state to DONE.
Start URL

Here you learn, on what pages users tend to initiate chatting more likely.
Top conversations (minutes)

Find a list of and links to your longest conversations.
Average Response Time

Time range between marking the user as UNRESOLVED and the first message sent by a support agent.
Messages
Sent and received Messages

Number of messages incoming from customers added by number of reply messages from agents.
Automatically handled Messages

Number of messages handled by a chatbot.
Unhandled Messages

Number of messages that were not answered and not marked as DONE by an agent.
Sessions

Get an overview how many sessions where opened on your website in the day-by-day in the past. Learn which browsers and devices visitors most likely use.
Agents

Learn more about the activity of each of your agents and the who the people are that reach out to you.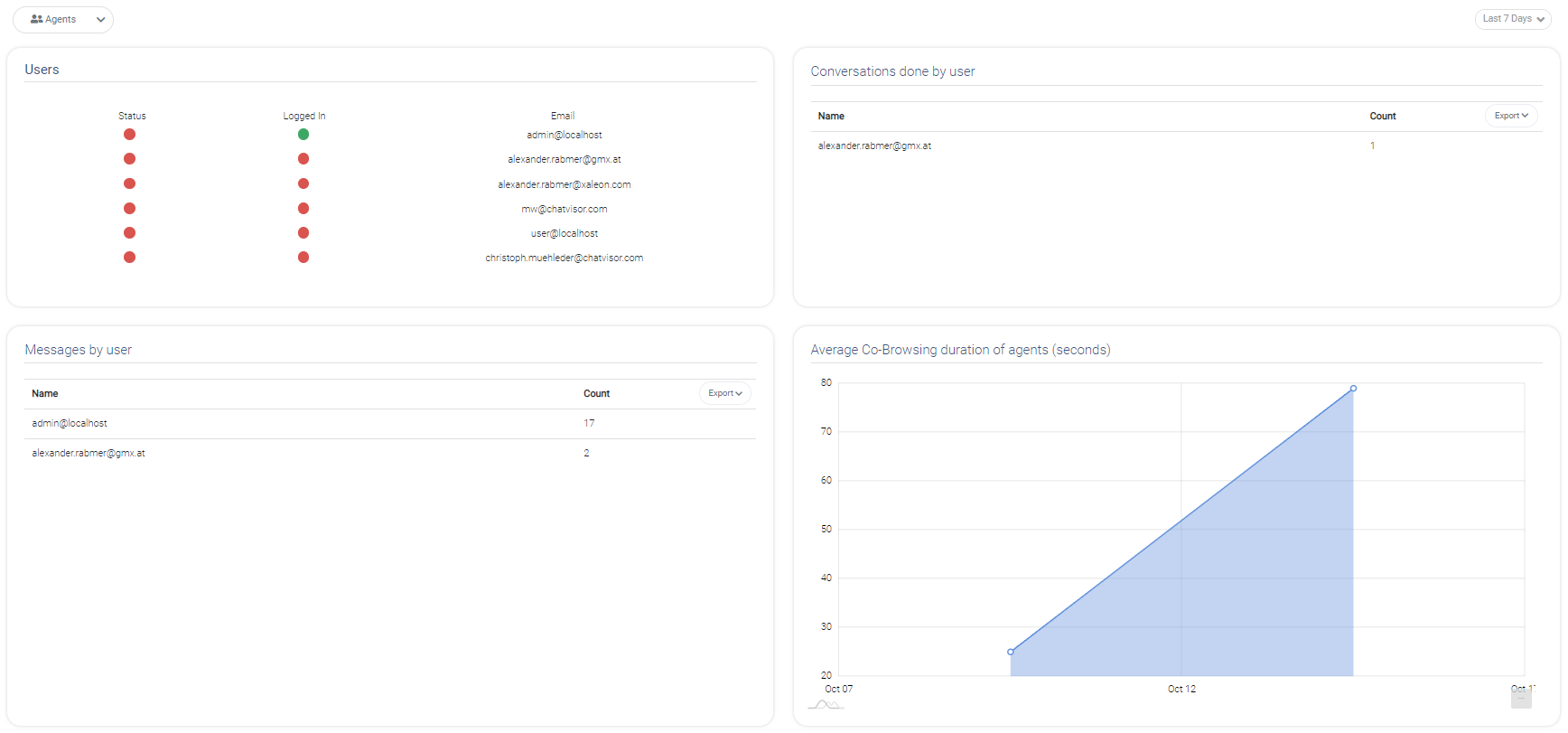 Users

List of registered users, including information:
Status - is user currently an available agent (is his status online/offline).
Logged In - is user currently logged into platform (no matter if he set himself available or not).
Conversations done by user

Number of conversations handled by each user within set time period.
Messages by user

Number of messages sent (outgoing) by each user within set time period.
Average CoBrowsing duration

Number of minutes CoBrowsing sessions took from start to end per average.
Agent online status

Timeline to show how available agents were over course of time.