As an extra to growth tools and buttons in flows (can be added to text element and card element), additional actions can be triggered. This means, when a user runs through the growth tool according plan or clicks the button within your flow, you're able to react to that with one or more additional actions.
Different Additional Actions

The different additional actions are:
Add/Remove Label
Add/Remove Subscription
Add to Sequence
Add Custom Field
Send Flow
1. Add/Remove Label

Add/remove a label to/from a user. You can create new labels directly in the "Add Label" view during setup. Learn more about Labels.
2. Add/Remove Subscription

Subscribe or unsubscribe a user to/from a category. Only use when user defininitely expresses consens about subscription!
3. Add to Sequence

Add the user to your Messenger funnel, your sequence.
4. Add Custom Field

To get a understanding for custom fields, go to User Input/Custom Fields.

Using the "Add Custom Field" additional action creates a custom field in the user's profile. Other than with the user input, you set the value of the custom field.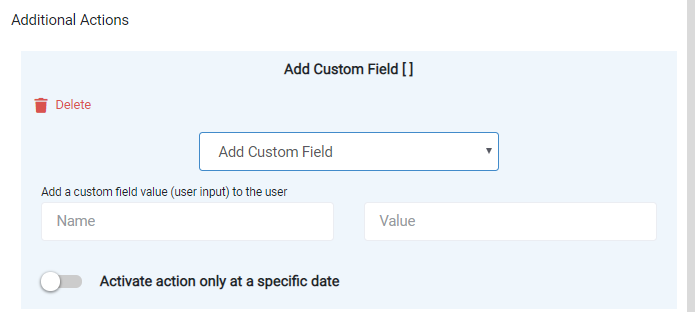 5. Send Flow

Trigger another one of your existing flows.
Set Availability Date for Additional Action

If you want that the additional action can only be triggered on certain day(s), turn "Activate action only at a specific date" on. Then set all dates on which the additional action should be active.