Create and target Broadcast
Building of Broadcasts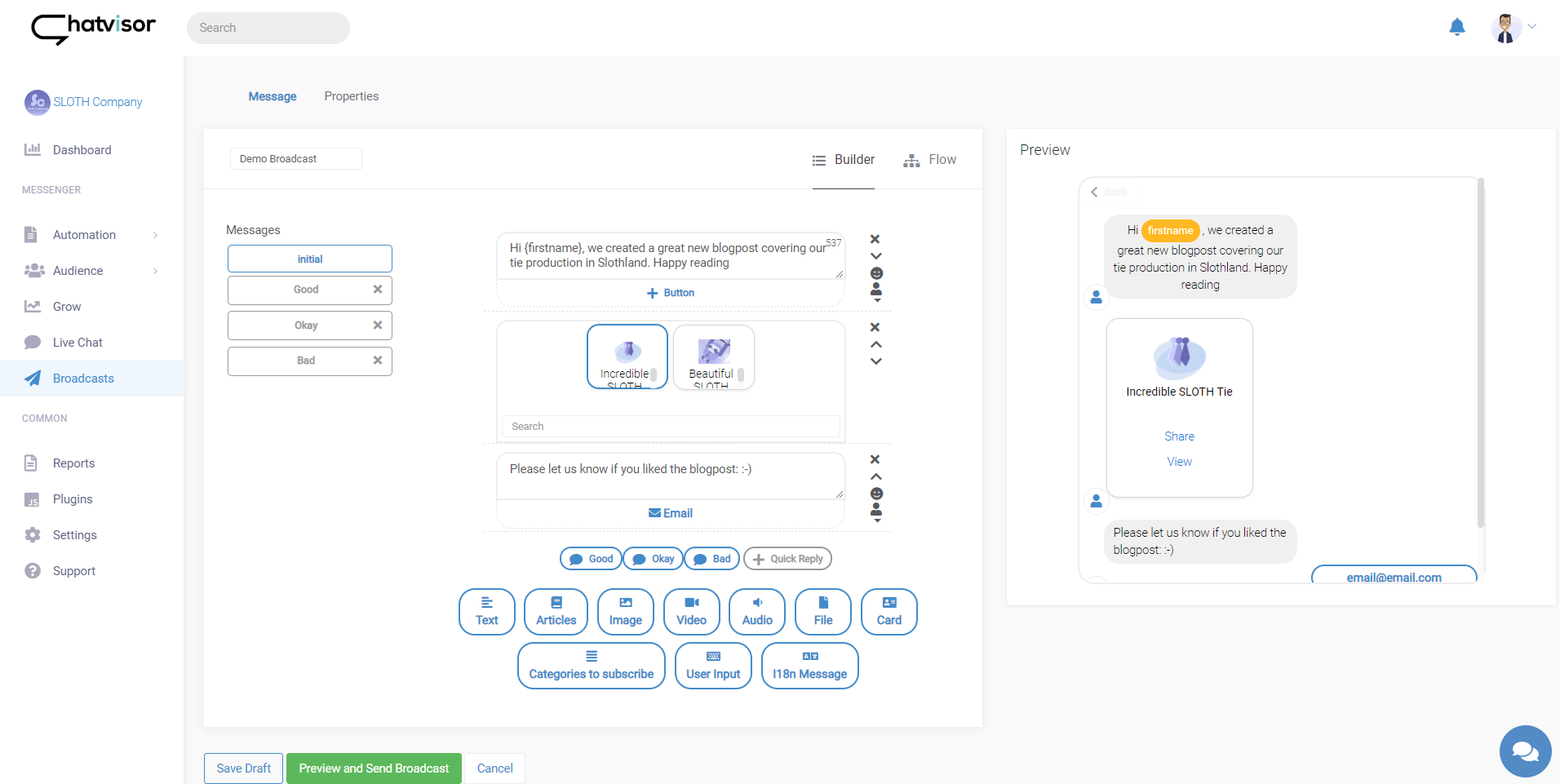 Building broadcasts works the same way like building a flow. Learn how to build a Flow.
Hint: You can also send flows as broadcasts. Therefore change from Builder to Flows and choose the flow you'd like to send.
Properties and Targeting of a Broadcast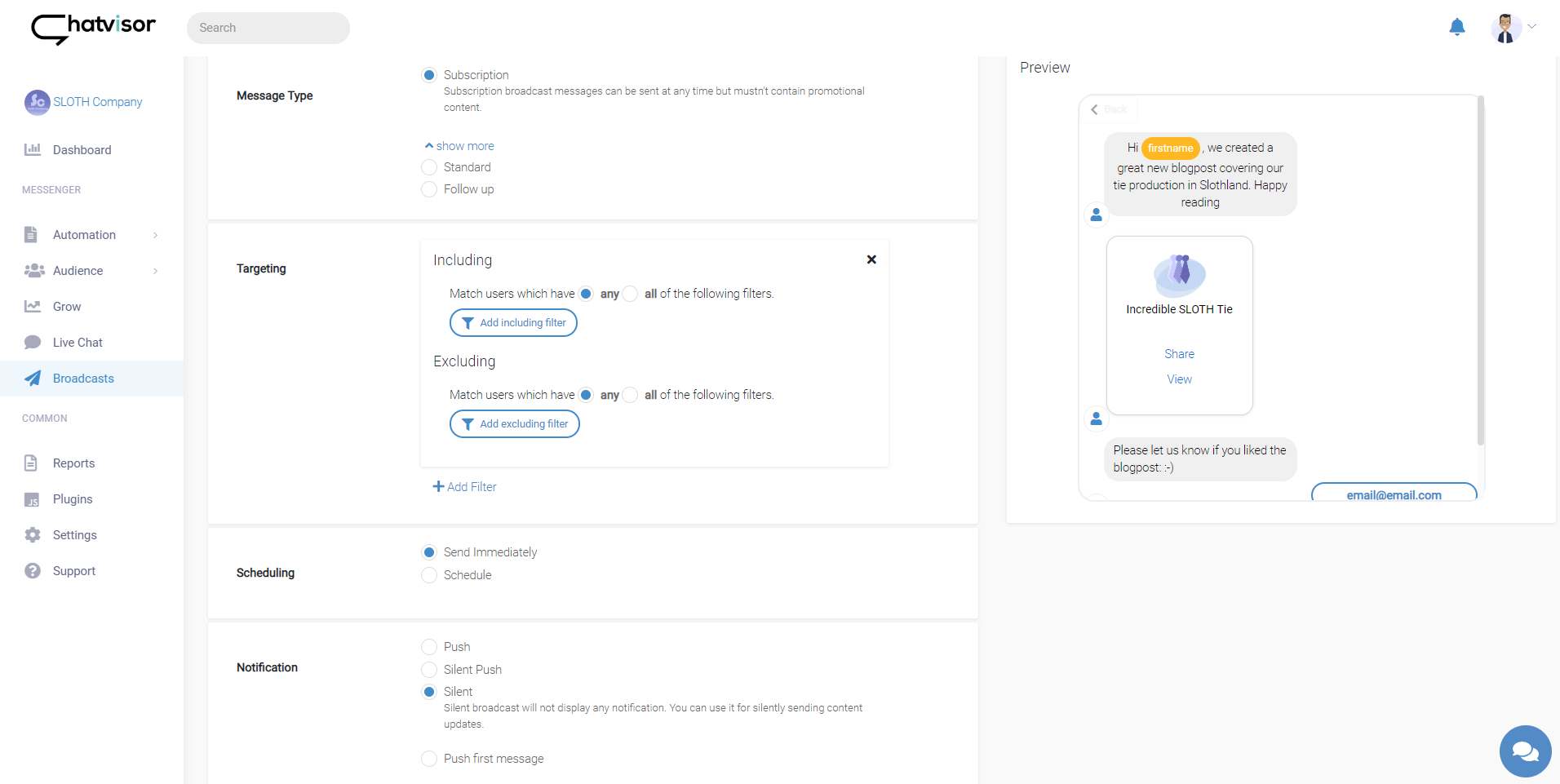 With broadcasts there's some configuration possible which you should know about:
Message Type

Chatvisor extends Facebook by using Facebook's official interfaces (APIs). With the API are also policies and restrictions on the use related. When using the API, Facebook classifies in its policies in different message types:
Subscription
Standard
Follow up
All of them are related to the general 24-hour Messaging Window for bot messaging. When a user sends a message to a Page, the business/the bot of business has 24 (business) hours time to reply to be a Standard message.
Out of the 24-hour time window, the types "subscription" and "follow up" apply.
Subscription
Subscription messaging allows a business to send regular content to a person on Messenger - even out of the 24 hour window. Your initial message must not contain promotional content. A user may opt-out of receiving subscription messages from a Page at any time.
Using the Messenger newsletter, you generally will use subscription messaging.
To be able to use subscription messaging, you need to verify your Page and the planned use case. Learn more about Page Verification.
Standard

Standard messaging happens during the 24-hour Messaging Window. The 24-hour Messaging Window will be reset with every user interaction/message. In standard messaging promotional content is eligible.
Follow up

A "follow up" message is one additional bonus message outside of the 24-hour Messaging Window to follow up on the conversation.
Targeting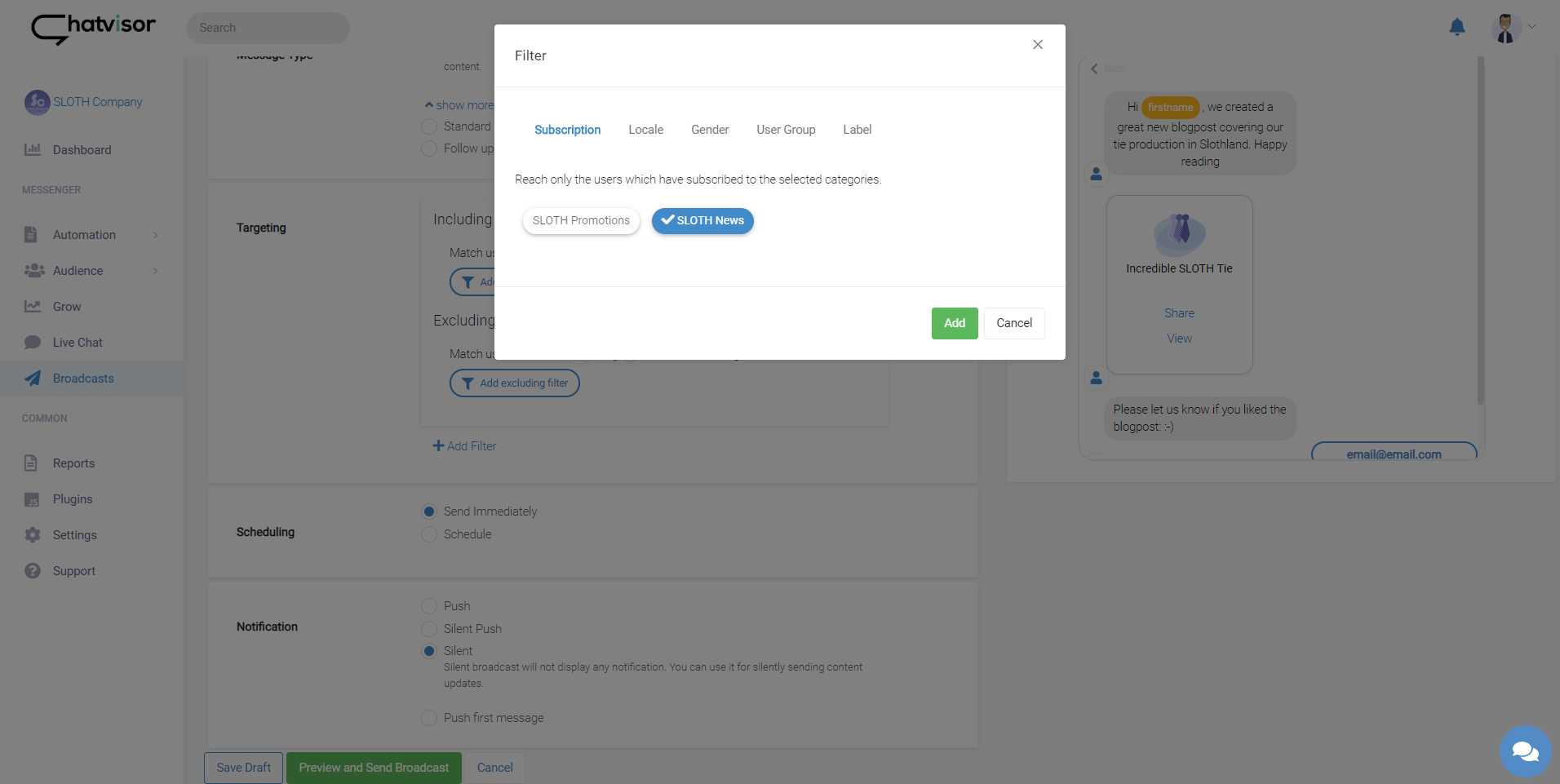 When targeting your message you can choose and combine including and excluding filters to assemble your target audience. Including filters add recipients to your target audience, excluding filters remove recipients from your target audience. You can add multiple including and excluding filters.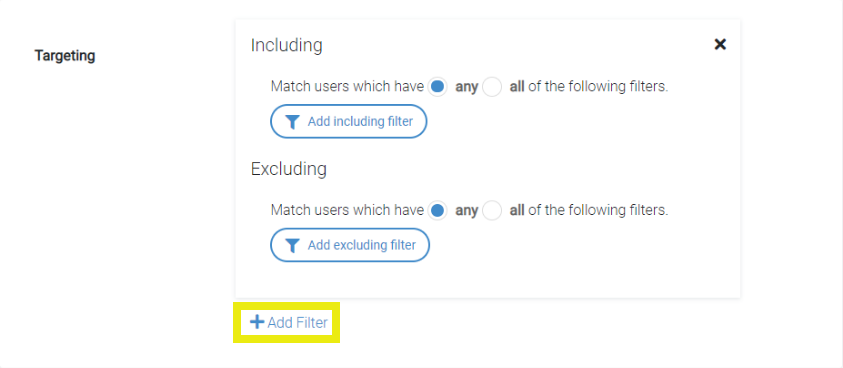 Available filters are:
Subscription - select Categories
Locale - based on user's Facebook language
Gender
Example: Include all "News" subscribers and exclude females within target group: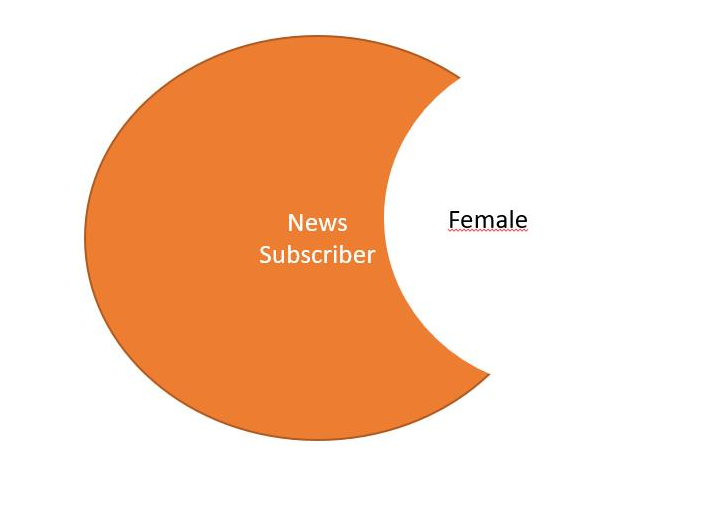 Scheduling

Broadcasts can be send immediately or scheduled in advance for a specific date/time.
Notification

"Notification" describes how the message will be pushed on the user's phone. The broadcast can pop up and/or trigger the ringtone. The different types are:
Push

Pop up + tone. Push notifications will display a phone notification and make sound. You can use it for important messages.
Silent Push

Pop up only. Silent Push notification will display a phone notification without sound. You can use it for messages messages that don't require immediate action.
Silent

Silent broadcast will not display any notification. He sees message next time when going to Messenger, you can use it for silently sending content updates.
Push first message

It will trigger only one notification (the first message of the broadcast) and the rest of it will be sent in silent mode. You can use it if you send multiple message steps and only want one notification.
Send Broadcast

By now you should've created and configured your broadcast. To send the broadcast, click "Preview and Send Broadcast". The message won't be sent immediately, first you get a preview where you can check the number of recipients: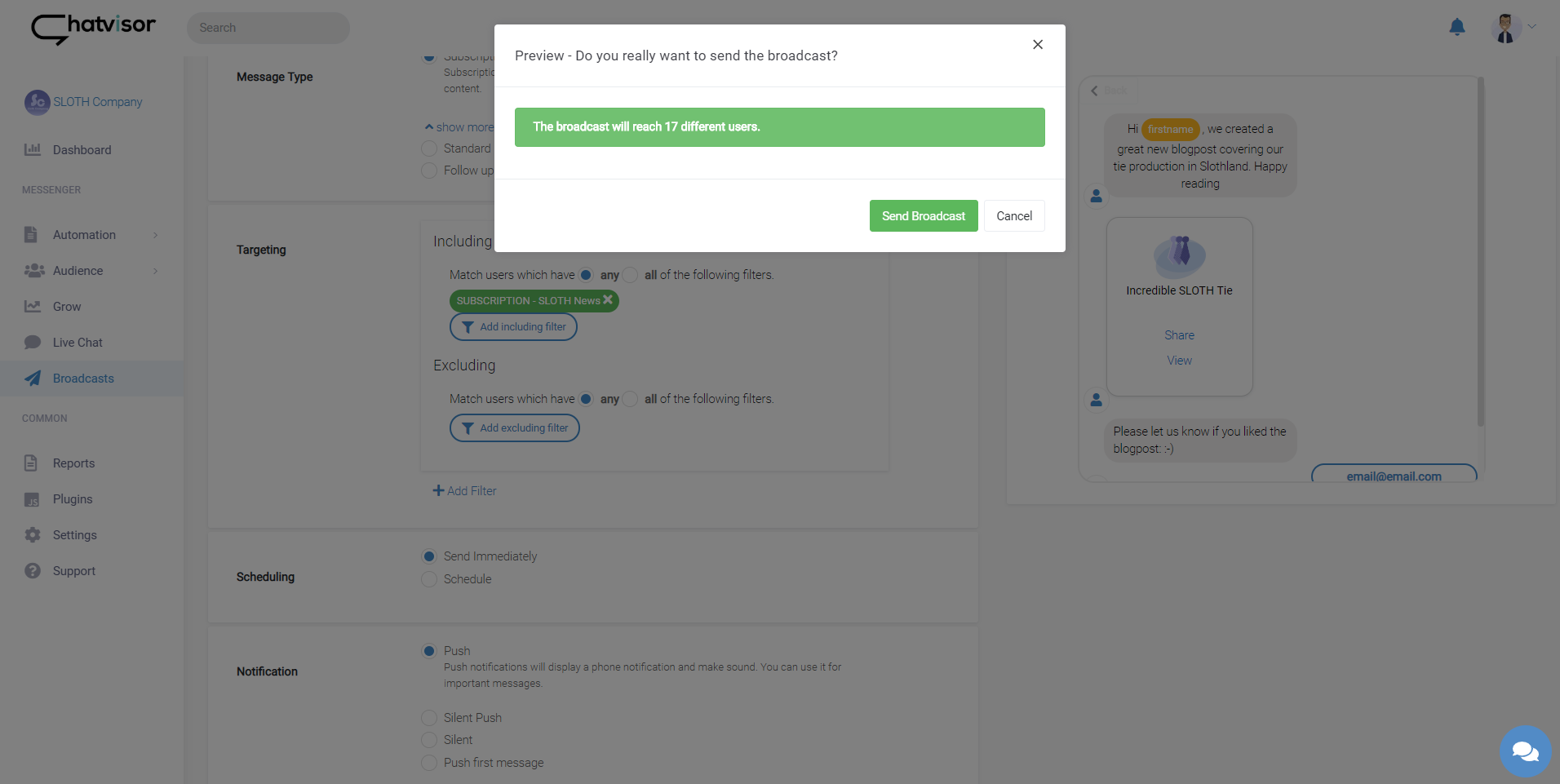 You can also save your broadcast as a draft to continue later on. To find the draft visit the broadcast overview/history (= navigation bar: Broadcasts), click the draft and click "Edit".