After actions work for all growth tools the same way, they describe what and if something happens when the user shows expected behaviour.
For the comment watcher that's when the user replies to you in Messenger showing consent for further interaction.
Create an after action by clicking the "New" button.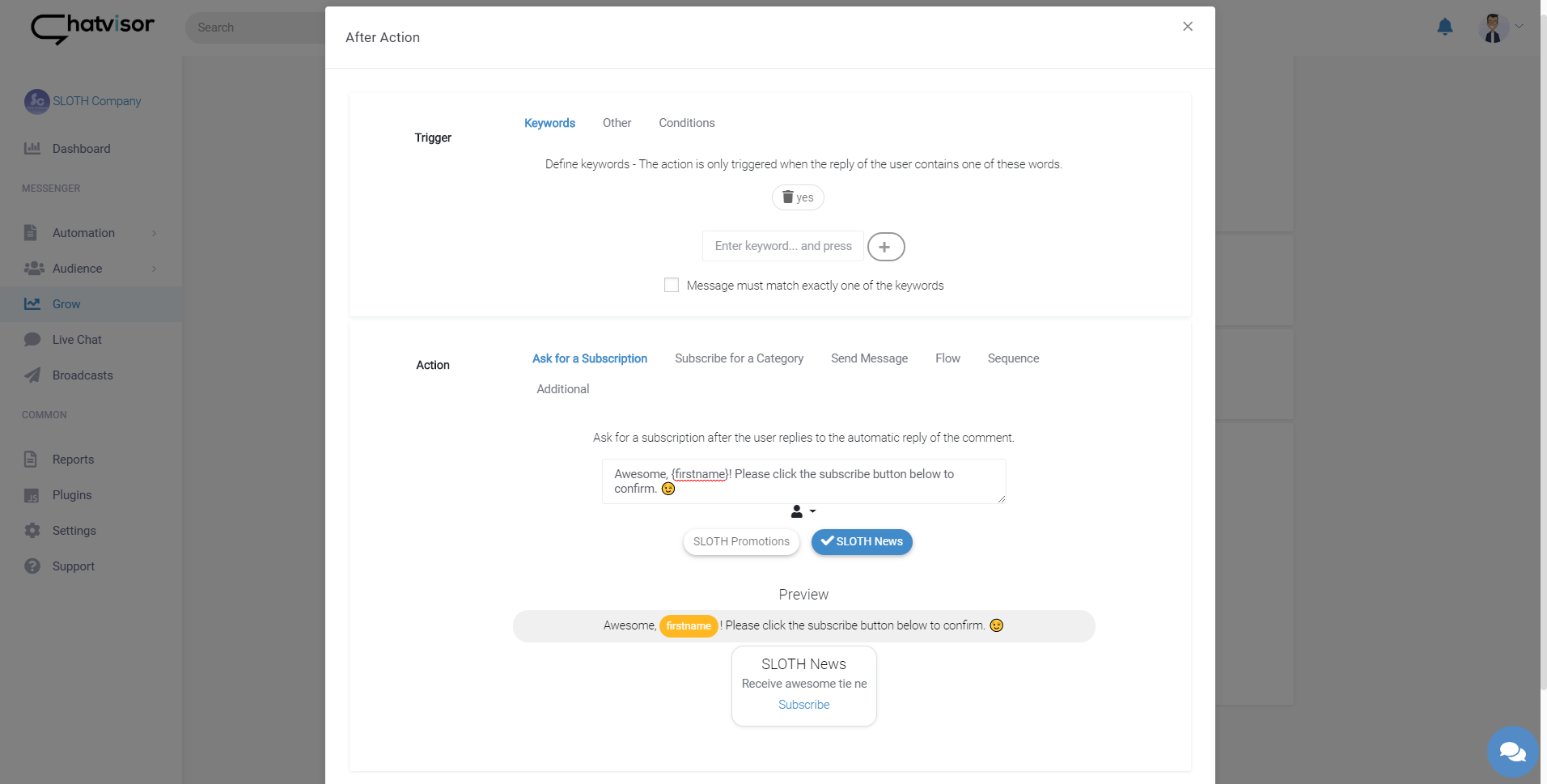 Trigger
Validate the response of the client to make sure that your possible after action is adequate.
Keywords (main use case)
When the user's reply message contains the keyword, the set action triggers (e.g. "yes", like in the example message above). The algorithm differentiates between alternate answers like "yes, please" which will trigger the set action and "yes, but long message..." which will not trigger an action because human assistance seems necessary.
Other
In "Other" you can find a great alternate trigger: "Trigger only if no other after action triggers". With it you can cover all alternate answers which aren't covered e.g. by keywords.
Conditions
A condition can be combined with Keywords and Other (Other). For example, due to a condition the action is only triggered when a user has subscribed to a certain category.
Action
When a trigger matches the criteria, you can configurate that one of the following actions is initiated:
Ask for a Subscription
This is the standard option to allow an user to subscribe to a selection of categories. Here you can define the message that should be sent to ask the user and select the categories that should be suggested to the user. If GDPR compliancy is activated, also the extended opt-in information will be sent (Learn more).
For the user the action will look about this way:


Subscribe for a Category
In some occasions, depending on your first reply message, it might be adequate to directly assign a user to a category making him a subscriber. Simply choose the category users should be subscribed to when they trigger the action. Using this action, keep in mind being compliant with GDPR if relevant for you. In any case: do not add users to a category without their consens.

Send Message
Reply with just a plain text message.

Flow
Trigger a flow you prepared as an after action. This could very well be a quiz or any kind of form.

Sequence
Trigger a sequence you prepared as an after action. Start your funnel right after the customer commented.

Additional