To acquire subscribers even faster we will now take a look at the other growth tools, which are included in the "Growth" package.
Aditionally to the already familiar growth tools – Comment Watcher, Auto Responder, "Send to Messenger" plugin – we're taking a look at:
Facebook "Click to Messenger" Ads
Checkbox Plugin
Referral Link
Messenger Code
1. Facebook Ads (Click to Messenger Ad)

Facebook Ads are an easy and fast way to win Facebook users for your Messenger community. The incredible thing about Facebook Ads is the fact that you don't have to settle for you existing community but can reach a whole new audience. To use Facebook Ads for collecting subscribers you need to choose the "Click to Messenger" Ad and connect it to Chatvisor.

To make your ad successful it is (like always!) critical to clearly communicate what people can expect inside the Messenger (quizzes, exclusive content, exclusive competitions, etc.) and which value they have when signing up.

> Click to Messenger Ads in detail
2. Checkbox Plugin

The "Checkbox Plugin" generates a so-called snippet, which can be integrated into every form on your website. It is similar to the email newsletter checkbox, which is included in most order forms. By using this plugin, it is possible to have customers from the online shop become subscribers to the messaging service.

These subscribers can easily be labeled as "customers" for easy targeting.
3. Referral Link

The "Referral Link" makes it easier for us to have existing online communities become messenger subscribers. We can use the Referral Link to collect subscribers from existing communities in LinkedIn, Instagram, YouTube, Email, Pinterest, and other platforms.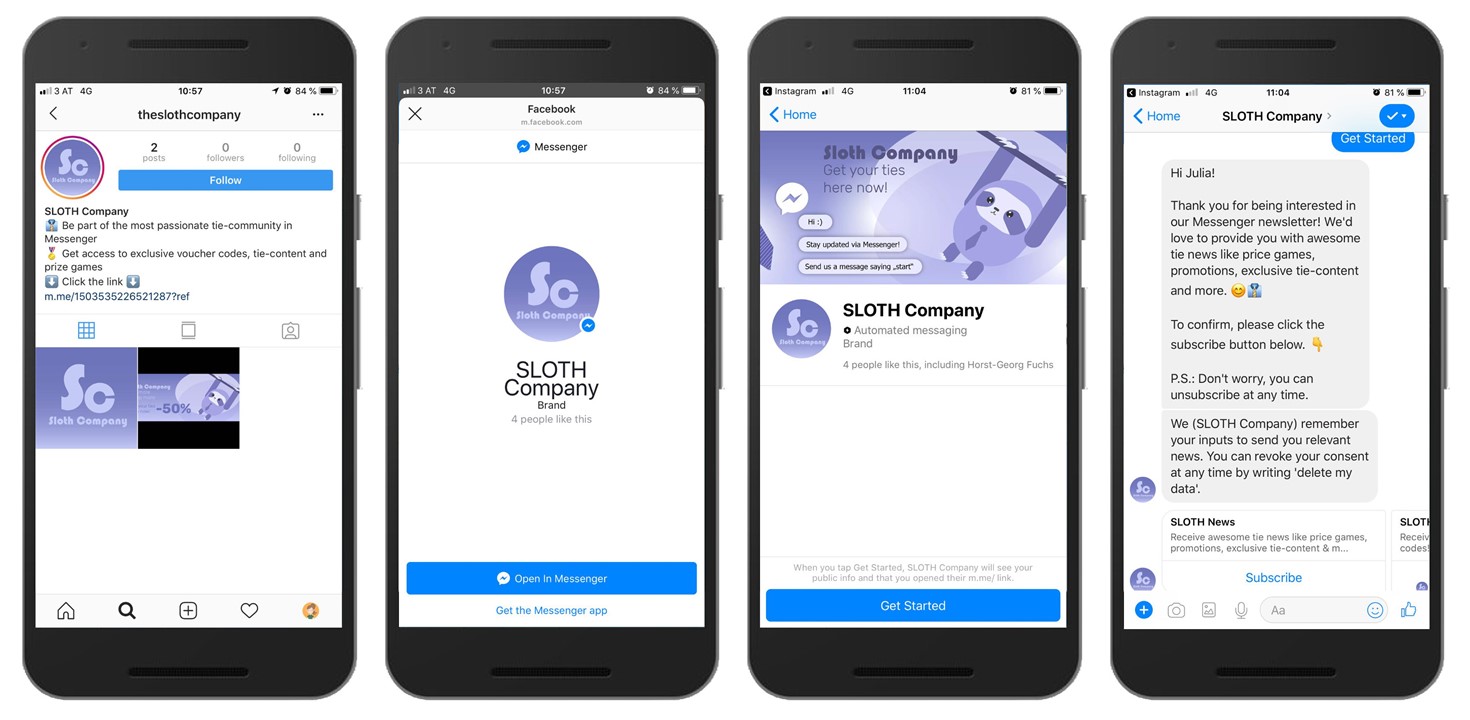 To improve the "look" of the link you can hide the real link behind another one. For example, a bit.ly link or your own one.
4. Messenger Code

The "Messenger Code" offers you the possibility to generate subscribers via offline channels as well. It is quite similar to a QR code, but the difference is the fact that it can be scanned directly using the Messenger App.