Your first broadcast is right around the corner - in this article you'll learn:
General tips for broadcasting
Elements you can use to build your broadcast
A short practical example for your first broadcast (which from experience works great)
General tips for Broadcasting

IMPORTANT! When sending your first broadcast we have to remember one thing: Messenger is NOT Email! Emails are long and extensive. Communication via Messenger is short and interactive. Chatvisor makes it possible to use this exact interactivity for broadcasting.

So, instead of putting a lot of information into a long text we put it into an interactive flow. "Flows" are chatbot conversations that allow the user to shape the conversation the way they want it to.

Comparing to email, this makes the conversation more personal and interactive and allows people to choose the content they are interested in and want to hear more of.
Elements to build your Broadcast

The building and sending of broadcasts can be done in the menu item "Broadcasts". Here you build every single message in the interaction chain individually.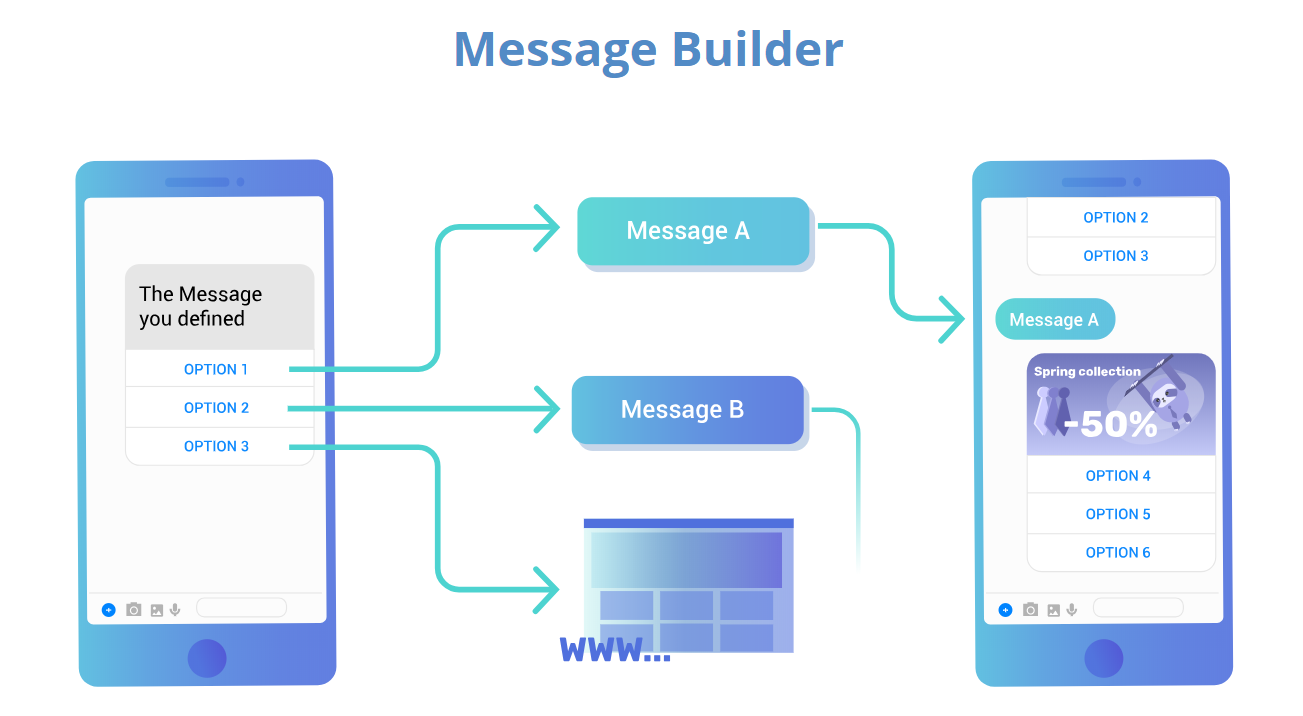 These are your elements:
| Element Type | Description |
| --- | --- |
| Text | This element allows you to insert a text message (Emojis included). The text element can be extended with up to three buttons, which lead to a desired further action. |
| Articles | The previously in "Articles" generated articles can now be implemented as a Slideshow. Articles are links consisting of picture, title, short description and URL. |
| Card | With this element you can build your "Articles" directly inside the broadcast. |
| Image | Upload an image. |
| Video | Upload an audio file (MP3). |
| Audio | Upload a video. |
| File | Upload a file (PDF, etc). |
| Categories to Subscribe | Display the user a selection of categories he can subscribe to. |
| User Input | Ask people questions and save their inputs. You can ask for simple data like email, phone number, location or also open questions to for example do a survey. |
You find the different message blocks on the left side of the view. This video shows you how to do it:
Your first Broadcast – a practical example

To show you the interactive elements of broadcasts, we find it useful to start with an easy practical example. From experience this one has been quite successful.

Imagine you have written three new blogposts regarding topic A, B and C and want to send them to your Messenger community. Instead of sending them to all of your subscribers at once – without knowing whether they care for the topics at all – you can first ask your subscribers if they are interested in the latest blogposts.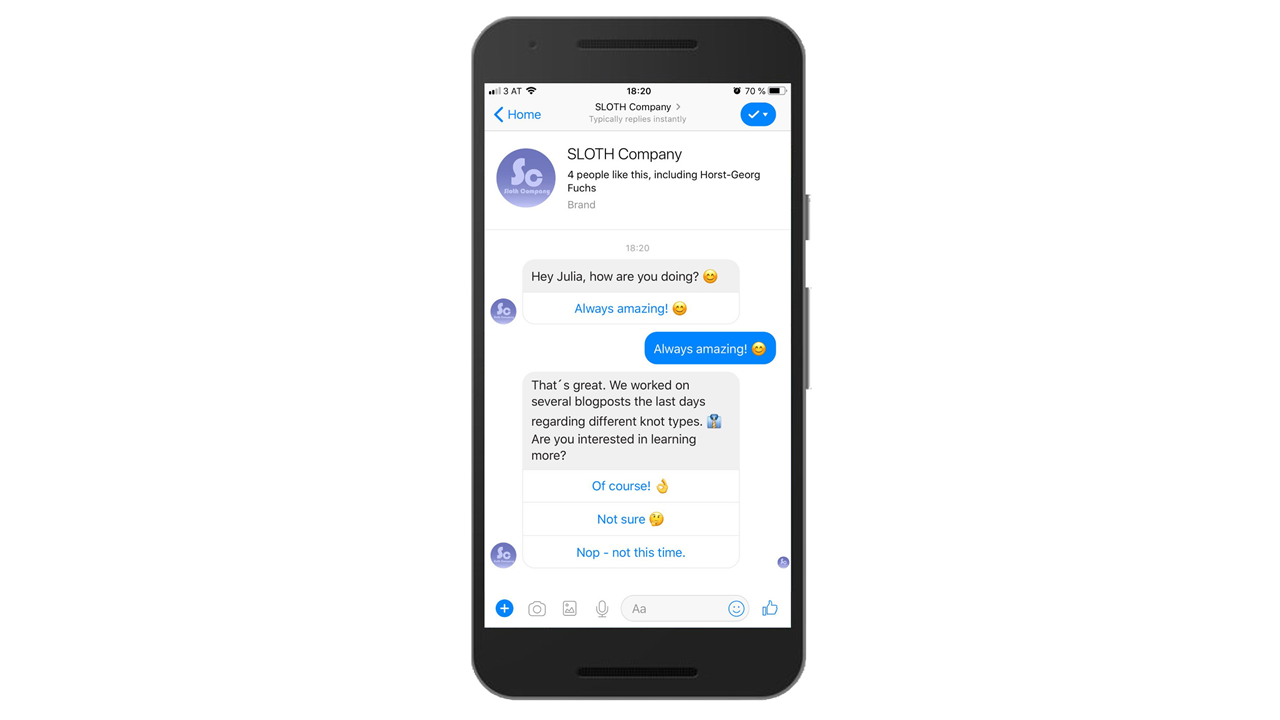 The concept of asking your subscribers for permission before sending them something is called "Permission Marketing" and is very effective. Why? Because the subscriber feels like he is in control over what content he gets and doesn't feel bombareded. He feels as being part of the process, which generates a feeling of trust and affection.
As creator of the broadcast you now have the possibility to create different messages for every three answer options.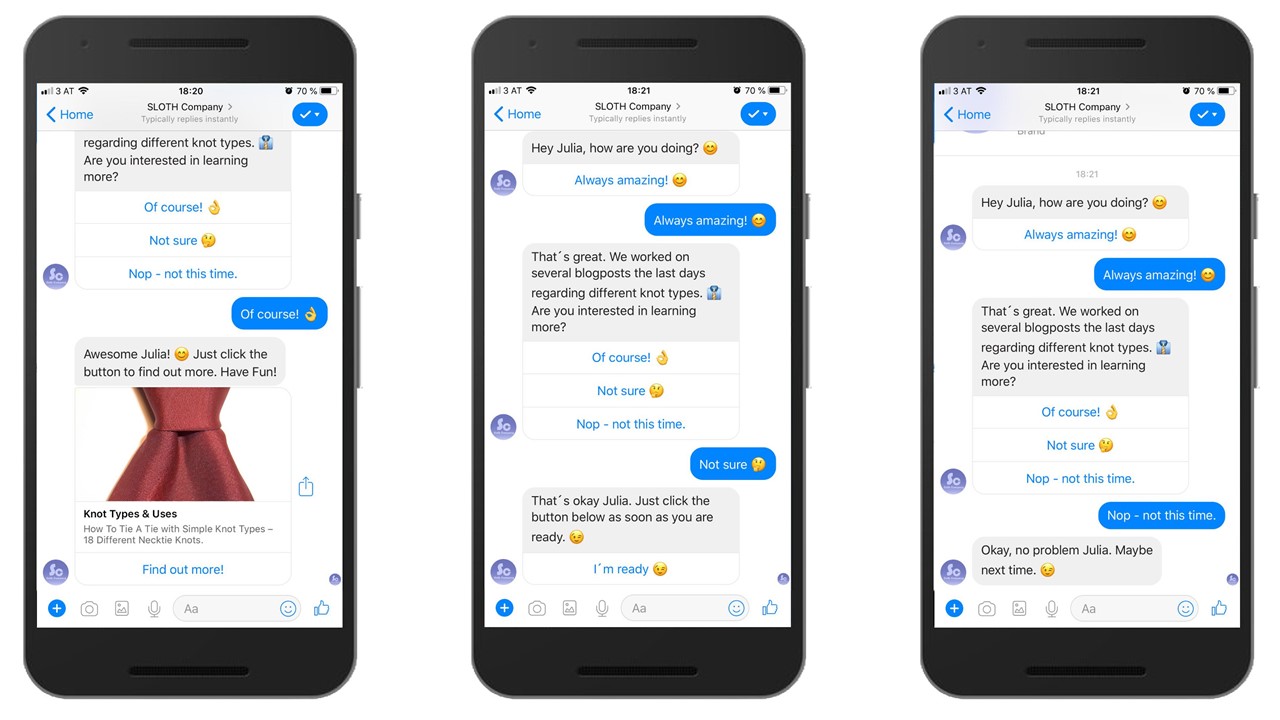 It would be possible for you to build this interaction chain up until forever. You could for example ask the people who choose option three, which topic they are rather interested in and save it for later – this can be managed using the "custom field" element.
After familiarising yourself with the possibilities of Chatvisor and understanding how the system works you have the possibility to get very creative and create unique Use Cases tailored to your needs. Here a few examples:
Content Marketing
Market Research and Market Surveys
Generating Leads and Recruiting
Interactive Campaigns (Quizzes, Scavenger Hunts, monthly Wheel of fortune, etc.)
There are no limits to your creativity!