Get first Messenger Subscribers
To generate your first 1000 subscribers, this is what you need to do:
Use all possible growth tools.
Actively promote your Messenger newsletter.
Communicate the value people get from subscribing to your Messenger newsletter.
Activating all Growth Tools

The Beginner Package offers three different growth tools. All three operate after the same principle. From different channels users are led to your Messenger channel. When having them there, you look to receive a GDPR compliant double opt-in. You do that by asking whether they want messages from you in Messenger in the future or not. Further, you can offer several different categories the customer then explicitely can subscribe to according his interests.

The available growth tools are:
Comment Watcher

The comment watcher automatically opens a Messenger conversation with people who comment on a certain Facebook Post of you. Here, a high number of comments is critical to gain lots of subscribers.

The easiest way to get lots of comments are Facebook price games.

Complete the following three steps to connect the Comment Watcher to the competition:
plan a competition which generates a lot of comments (e. g. big win)
define the text which the participants should get in the Messenger
define the possible newsletter categories
Auto Responder: Keyword "Start"

The auto responder is a keyword-based growth and support tool (FAQ). The use of a keyword is great, because it can be promoted via all existing channels, like Facebook, Instagram, via influencers, email, Youtube, TV spots, …
"Send to Messenger"-Button

The "Send to Messenger" button is a plugin which can be added on your Website. It allows you to convert website visitors to Messenger subscribers, for example people that read your blogposts.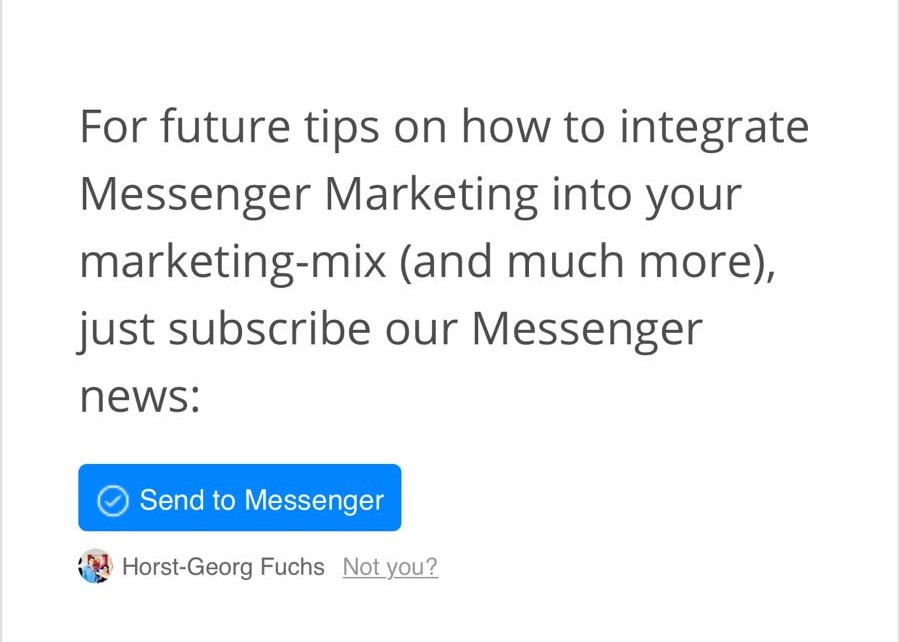 > "Send to Messenger" button in detail
Actively promote your Messenger

Like with every channel you want to build a community, also in Messenger you need to market. It is useful to actively support Facebook price games (with Comment Watcher integration) with marketing budget.

If your company is working with Influencers, then they can actively promote the Keyword "start". The Facebook cover photo can be used as promotion space. Existing email newsletter subscribers can be informed about the Messenger Community.

These are just a couple of ideas. Get creative an promote your Messenger community!
Communicate a clear value

Lastly, it is really important to clearly communicate why your Messenger newsletter is valuable to the subscriber. Nobody wants to be a part of a spambot. It is important to still people's fear and clearly state what they can expect and why they should sign up.

You could for example offer exclusive competitions, exclusive coupons, access to exclusive content, interactive quizzes or something entirely different.

Think about what you want to represent in Messenger and why your subscribers need this. After this communicate it clearly and active.