In this article you learn what options for configuration the LiveView provides. First, browse to the plugin menu.
If you have activated the LiveView already through the First Steps, a "LiveView Plugin" should be visible. Click it and choose Edit.
If not, click + Add Plugin and choose LiveView.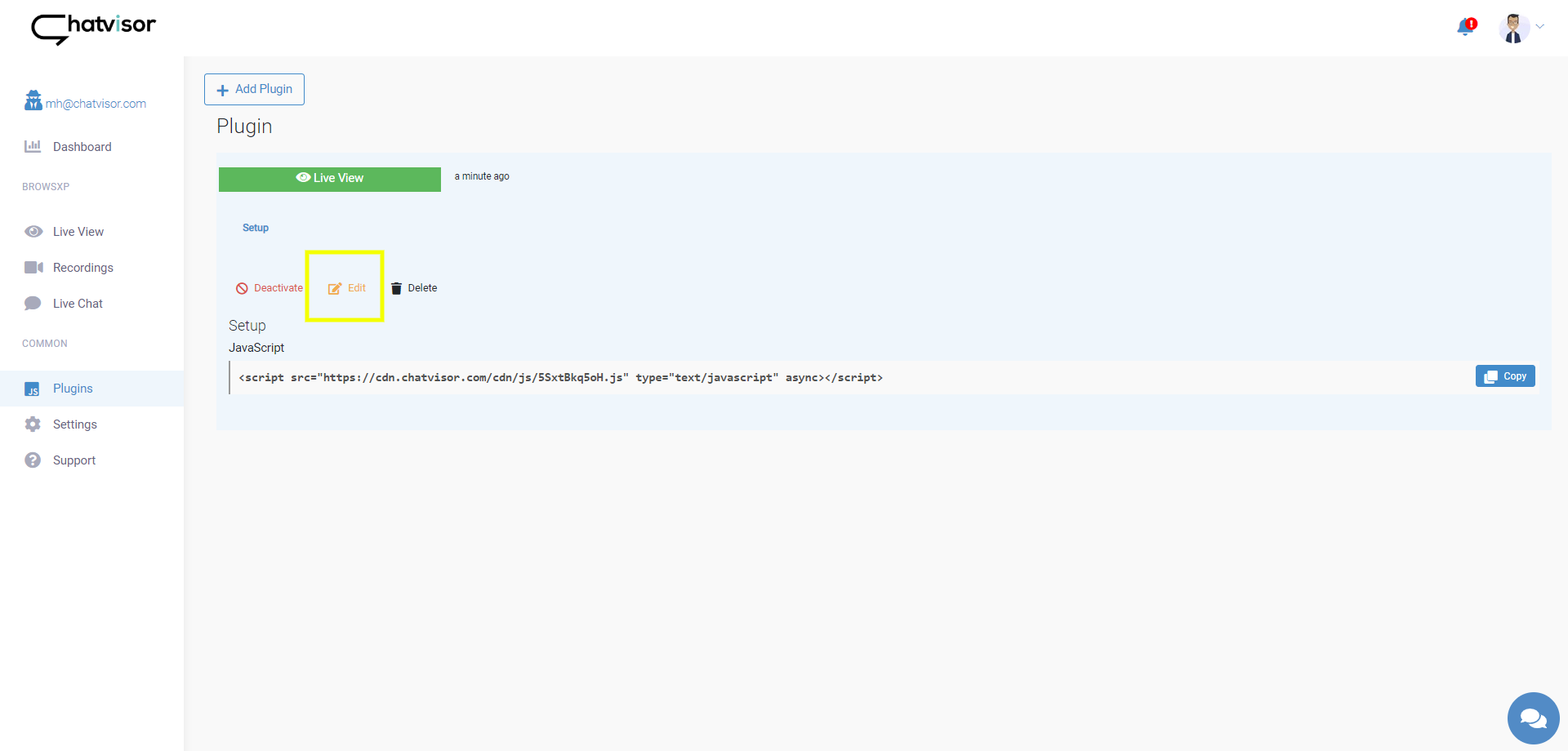 Configuration

By now you're at the details page for the LiveView - here you can turn on/off the different features.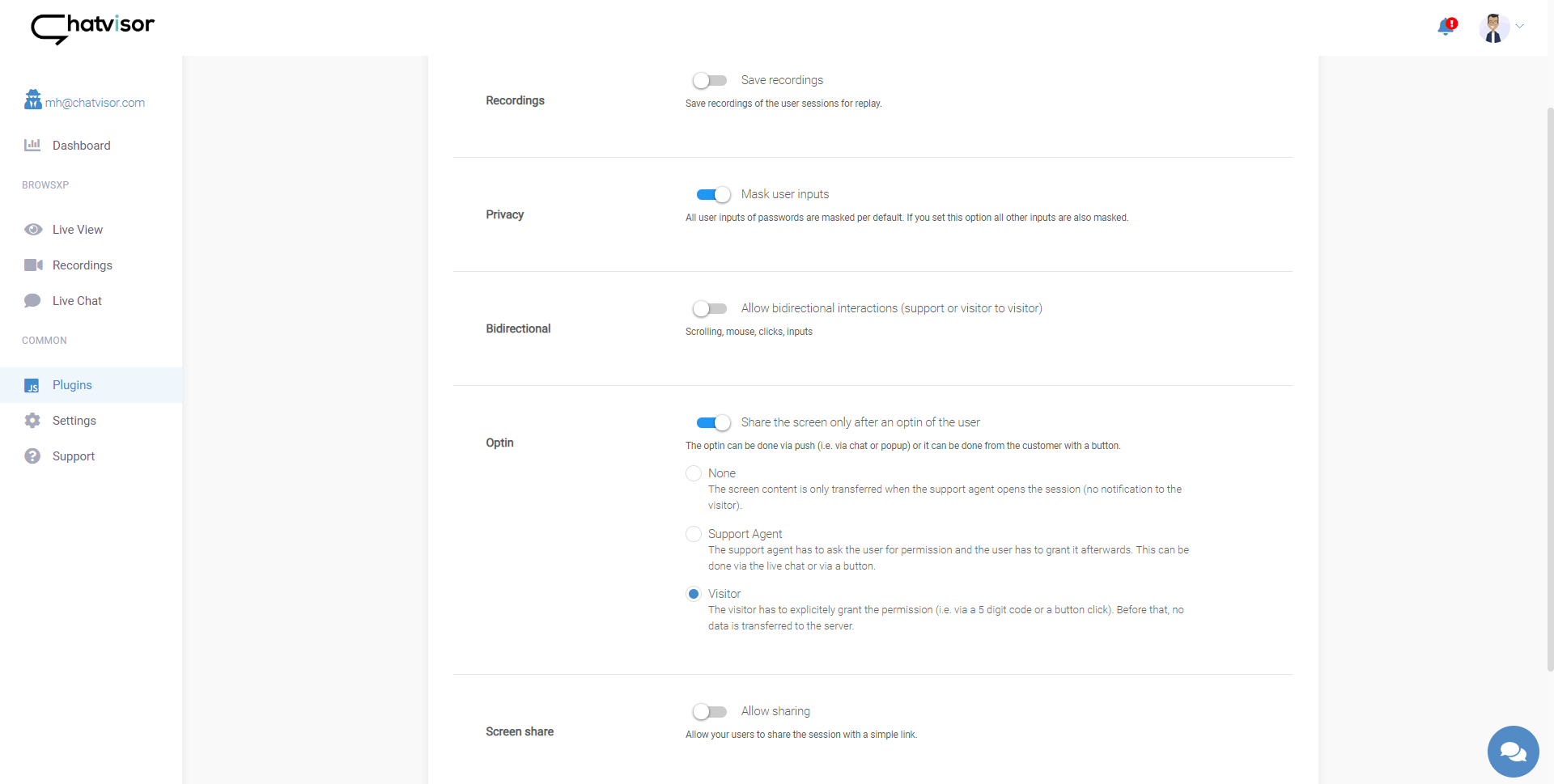 Recordings
Privacy

Masking of content, user inputs, forms, etc.
Bidirectional
CoBrowsing stands short for collaborative browsing. It is a technique to screen share on websites. It further allows to take control over the visitor's mouse to give first-hand support. CoBrowsing works without any downloads and browser extensions.
Activating bidirectional allows you to CoBrowse and interact with website visitors. Without any download, both can
control mouse (two cursors),
click,
scroll,
type inputs
during cobrowsing sessions. This works from agent to visitor and visitor to visitor (using the screen share link).
Optin

You can define for yourself and your company whether you want to make an optin for cobrowsing mandatory or not.
Optin Requirement Level
None

The screen content is only transferred when the support agent opens the session (no notification to the visitor).
Support Agent

The support agent has to ask the user for permission and the user has to grant it. This can be done via the LiveChat or via a button.
Optin can happen through Embedded Session ID or WebChat.
Visitor

The visitor has to explicitely grant the permission. Before that, no data is transferred to the server.
Selecting visitor will integrate the Optin Widget on your website.
Ways to obtain Optin
WebChat
Optin Widget
Embedded Session ID
WebChat

During a chat interaction the support agent can ask the customer within chat if he wants to cobrowse. When the customer answers with "Yes", the permission will be granted.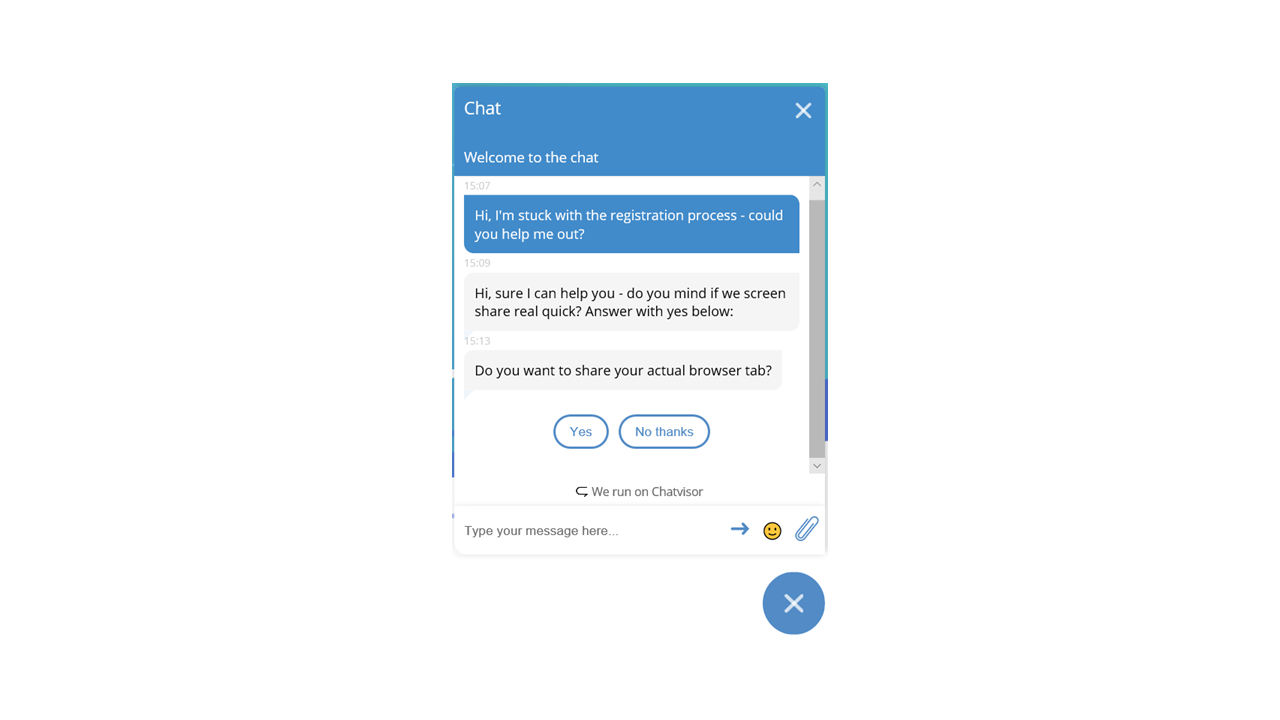 Live Assistance Widget

The Live Assistance Widget basically is a button to request and allow cobrowsing - further it contains an Embedded Session ID. You can activate the button by selecting "Visitor" as Optin Requirement Level.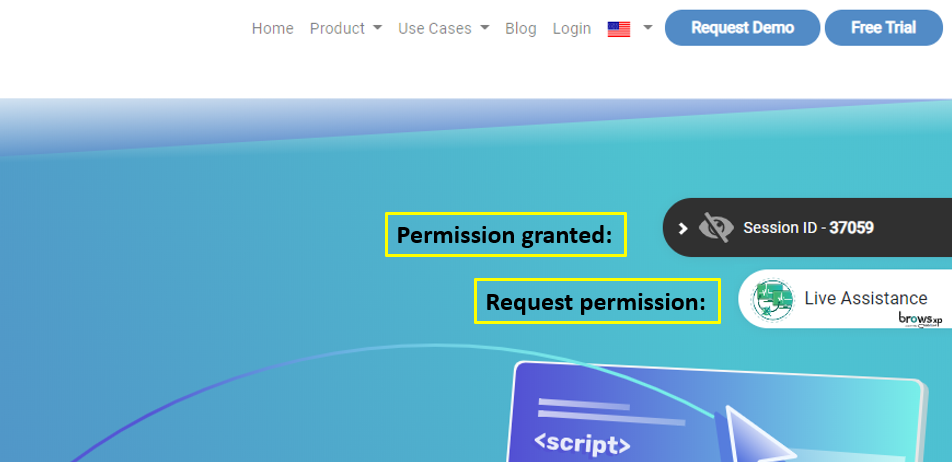 Embedded Session ID

The Embedded Session ID is a short code snippet displaying a 5-digit number. The id is unique for each website visitor. When a user wants to cobrowse with a support agent, he can share this number (via chat or phone), so that the agent can identify his session and join.

When the JavaScript snippet is implemented, use <span id="CV_SESSION_ID"></span> at the desired position to create unique number for every visitor.
Screen Share
Visitor to Visitor Sharing

Allow website visitors to collaboratively browse your website through link sharing.
Make sure you also activate: "Visitor" as Optin Requirement Level to integrate the Optin Widget on your website.
Enabling Allow sharing adds a copy link icon to the Optin Widget:

Clicking the icon, copies the link, which then can be shared. All users that have the link, can join the initial sharer's website session.
Implementation

Learn how to implement the LiveView on your page.
Advanced
Keep session for different domains
| Type | Value |
| --- | --- |
| Different subdomains | If the visitor switches the page and the new page has a different subdomain, the session keeps the same. |
| Different domains | If the visitor switches the page and the new page has a different domain, the session keeps the same. |